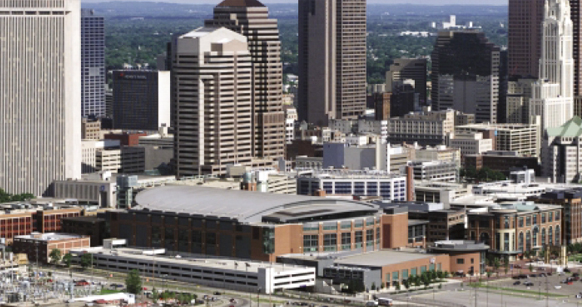 May 1st, 2001
Randall Shearin, Shopping Center Business
Nationwide Realty Investors' Arena District provides 24/7 buzz for downtown Columbus, Ohio.
Bringing major league hockey to Columbus, Ohio, has kept the new Nationwide Arena downtown hopping about 50 times this past year with pre-season and regular season games. And, who knows, the Blue Jackets might soon be an NHL playoff fixture.
Even better, the Arena, a joint venture of Columbus-based Nationwide and Dispatch Printing Company, is busy another 100 nights a year with shows, concerts and other sporting events. In all, Nationwide Realty Investors President Brian J. Ellis expects the Arena – on its own – to draw nearly 2 million people each year to Columbus's downtown.
Nationwide Realty Investors is the real estate arm of Nationwide, one of the largest diversified financial services and insurance providers in the United States, with $120 billion in assets and more than 35,000 employees. Nationwide Realty Investors is active throughout the United States with a diverse portfolio of office, retail, hotels, luxury apartments and developing land. Directly and through joint ventures, Nationwide Realty Investors controls more than $900 mil-lion in real estate investments.
Now, Nationwide is well underway with its development of the high-energy, $500-million Arena District, a spectacular mixed-use urban development. Features include more than 600,000-square feet of office space for downtown, retail, dining, residences, an urban-scaled cinema and a novel indoor-outdoor performance center which can be an intimate jazz cabaret one night, and a country concert amphitheater with seating under the stars, the next.