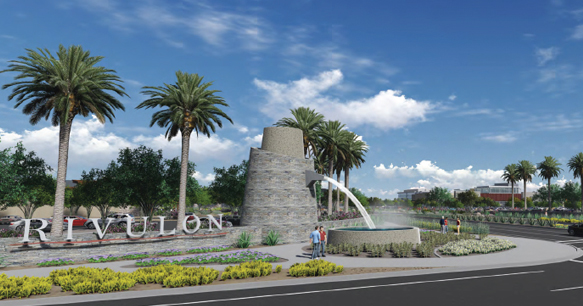 November 11th, 2015
Parker Leavitt, AZ Central
A $15 million piece of eye candy is set to arrive in Gilbert early next year.
The town's first Mercedes-Benz dealership—stocked with luxury sedans, coupes and SUVs—plans to open by spring within Gilbert's massive Rivulon mixed-use project near Loop 202's Santan Freeway and Gilbert Road.
Plans include a two-story, 67,000-square-foot building with a showroom, boutique, cafe and customer lounge in what will be the fifth Mercedes-Benz dealership in metro Phoenix. Other locations are in Phoenix, Scottsdale, Chandler and Peoria.
The dealership is the latest Rivulon project revealed by Nationwide Realty Investors, the Ohio-based real-estate arm of the well-known insurance company. Rivulon covers about 250 acres in Gilbert's central business district, where Nationwide plans an urban-style mix of offices, shops and hotels. Nationwide is selling 7 acres to another party, who will build and operate the dealership.
With Rivulon's first two office towers nearly finished and a retail center not far behind, a fleet of new Mercedes will give hundreds of workers, diners and shoppers something to ogle as they meander by.